Q+A
INTERVIEW BY MATTHEW HALL
ModVic LLC's Bruce Rosenbaum fuses Victorian elegance with futuristic technology to create "never saw anything like that before" art installations for hospitality settings.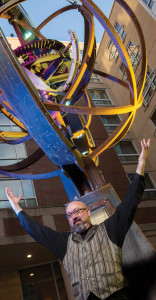 IT'S SAID there's no place like home, and that's really the case when it comes to Bruce Rosenbaum's residence. That 115-year-old mansion in Sharon, Massachusetts, served as a laboratory in which Rosenbaum and his wife, Melanie, created what they describe as a "modern Victorian look" by doing such things as combining an antique wood-burning stove with a contemporary glass cooktop and restoring the exterior of a Victorian pipe organ and housing a desktop computer within it.
It wasn't until they were finished assembling those amalgams of the past and present, along with several others along the same lines, that the couple learned what they'd done has a name: it is, a visiting friend told them, Steampunk. (The term references a futuristic take on the Victorian era, when steam power was widely used.) From that in-home start, Rosenbaum has become a high-profile evangelist in the Steampunk design movement, and has been orchestrating its move into a growing number of hospitality settings, starting with two New England hotels: one on Nantucket Island and the other in Cambridge, Massachusetts.
Topics he tackles in the following interview include Steampunk's origins and its increasing influence in the hospitality design community; its "green halo;" and why it's not just some passing fad.
FOR THE UNITIATED, WHAT IS STEAMPUNK?
Steampunk started out in the 1980s as a subgenre of science fiction, and basically posits this question: "What if, during the Victorian period or Industrial Age, they had our modern technology?" It's mind-blowing to think how everything would have changed if we had the ability to combine the beauty, quality and innovation of yesterday with the knowledge, experience and technology that we have today to come up with something relevant, meaningful and functional for the future.
Everyone has seen Steampunk in literature, movies, gaming, fashion and design, but maybe didn't know it has a name. It's ever evolving and sometimes difficult to define, but for me, at its core, Steampunk = History + Art + Technology.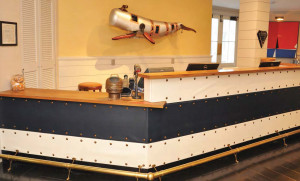 HOW DID IT COME TO ROCK YOUR WORLD – AND BECOME YOUR DAY JOB?
I've always been inspired by history, architectural salvage, mechanical objects and gadgets. I remember watching the 1960s pre-Steampunk TV series, "The Wild Wild West," with my father—it was our favorite show. We loved its idea of exploring the use of James Bond gadgetry during the Victorian period.
But before Steampunk was to become my life's work, I went down another path for a few decades. I began by pursuing a career in business and marketing. I graduated from UMass Amherst with a bachelor's degree in 1984 and then got an MBA at Duke University in 1988. After that, I eventually started a successful direct marketing business, N2N Direct, in 1998.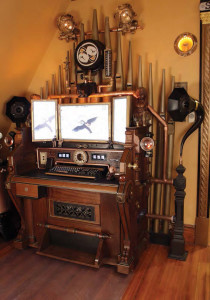 It wasn't until my wife and I bought a 1901-era Victorian Craftsman home in Sharon, Massachusetts, in 2000 that I rediscovered my love for design, restoration and repurposing. Melanie and I were bringing antiques and architectural salvage into the house, but didn't want to turn our home into a museum where the objects just sat there and looked pretty, but had no function. We got the idea to take the existing technology, appliances and modern conveniences that we already had in the house and integrate them into the "skin" or "housing" of the period objects in a creative, seamless way. We had some friends come through, and they told us we were Steampunking—and my first reaction was, "Steam what-ing? That sounds weird and wonderful!" That's when our life changed and we moved full steam ahead (pun intended).
My marketing brain went bimodal and in 2007, my wife and I started a home restoration business, ModVic (Modern Victorian). We bought an incredible (but in major disrepair) 1877 Victorian Italianate in North Attleboro, Massachusetts, and went to work giving it all-new functionality while keeping the quality, beauty and charm of its original builder's vision.
HOW DID THAT GO?
It wasn't the best business decision I've ever made. At the beginning of 2008, the real estate market went through the floor, and even though we had over a thousand people come to an open house we held (which appeared as the lead story on the front page of the Boston Globe's real estate section), no one could get a loan or sell their home to purchase this one. Three years later we had to surrender the house back to the bank and declare personal bankruptcy.
But out of that darkness came light. I remade ModVic from a home restoration business to a Steampunk art and design enterprise. I now work with homeowners, museums, corporations and hospitality clients in the U.S. and internationally to design one-of-a-kind pieces, creatively combining eras, ideas and technology to transform the ordinary into incredible, meaningful Steampunk functional art.
WHEN AND WHY DID YOU FIRST SEE STEAMPUNK MAKING ITS WAY INTO HOSPITALITY SETTINGS?
In the last 10-plus years, I've seen a lot more real estate developers, designers and architects repurposing old buildings, mills and factories into hotels, condominiums, mega malls and innovation centers. That helped set the stage for Steampunk's growing prominence, with its emphasis on finding new uses for existing objects.
During that same time, the millennial generation has emerged as a social and cultural force that's interested in resetting their expectations on how to measure their own success, as well as find happiness and meaning in life. There was an emerging sense that history, legacy and authenticity was the way for millennials to connect with what was important and at the same time, give them the inspiration to adapt and be resilient for an uncertain future.
For hospitality developers, that led to the realization that they need to make their properties distinctive, one-of-a-kind experiences that would attract millennials. That, in turn, has led to a growing number of Steampunk art installations, with their simultaneous focus on the past, present and future.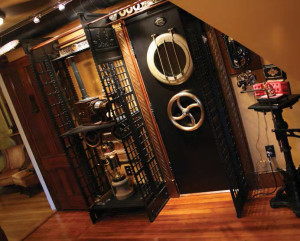 WHAT ARE SOME SPECIFIC PROJECTS YOU'VE DONE ALONG THOSE LINES?
Our first project was designing and fabricating a functioning Steampunk mechanical whale for the Nantucket Hotel + Resort on Nantucket Island, Massachusetts. Working with an incredible metal sculptor, Sam Ostroff, and his team at [Florence, Massachusetts-based] Salmon Studios, we came up with a "what-if " scenario: It's the end of the whaling industry on Nantucket in the mid 1850s; what if we were able to build mechanical whales for a new era of transport and tourism?
Our answer is a 6-ft.-long kinetic and interactive Steampunk mechanical whale sculpture that was created for the lobby of the recently renovated hotel/resort. The whale is activated by a hidden switch within a ship's binnacle at the hotel's front desk. Its mouth and tail move, with windows to its interior to see the mechanics of movement. A webcam in its blowhole monitors the front lobby.
Nantucket can be somewhat traditional and conservative. However, our Steampunk mechanical whale, known as "Punky," has become the hit of the island, and an iconic piece of functional artwork for the hotel.
On a grander scale, last September, ModVic and Salmon Studios unveiled "Celeste," a 25-ft.-tall, 6,000-lb. animated armillary that now welcomes guests to The Hotel Marlowe, a Kimpton property in Cambridge, Massachusetts, that's owned by Cornerstone Real Estate Advisers. That planetary sculpture was designed to embody the hotel's themes of discovery and exploration, as well as the city of Cambridge's focus on STEAM Science/Technology/Engineering/Art/Math.
THE ARMILLARY IS A PRETTY AMBITIOUS UNDERTAKING; HOW DID ITCOME ABOUT?
Simple: Dave Reilly—who was ceo at Cornerstone until early this year, when he transitioned to vice chairman—asked the property's engineer, Jay Lyons, to research some kinetic sculpture options for its courtyard space. After some research on the internet, they found an article The Wall Street Journal did on my company and called me in to brainstorm some ideas. Also working with Joe Capalbo, the hotel's general manager, we recommended a functioning armillary-like sculpture that picked up on the discovery/exploration themes of the hotel. I again brought in Salmon Studios to help develop the concept, engineer, fabricate and install the sculpture.
The steel, aluminum, copper, brass and bronze sculpture features live-action rotating gears from an old watermill in New England. It has a variety of lighting moods for night viewing. The hotel also uses the armillary to help sell its wedding packages, since brides can set the lighting colors of the armillary to match their weddings' palettes.
As a result of the Steampunk whale and armillary projects, we now are not only designing, fabricating and installing small to massive Steampunk functional sculptures, but also designing what is going around the sculptures, including tables, chairs, kiosks, hardscaping and themed environments.
WHAT ARE SOME OTHER HOSPITALITY INSTALLATIONS YOU'RE WORKING ON?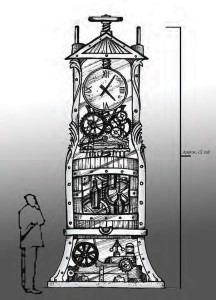 Our latest large-scale project is designing a park and large functional sculptures for the upcoming MGM Resort in Springfield, Massachusetts. Other projects on our boards include: A beer bottling machine/central fountain for a beer garden in Austin, Texas; a wine elevator/time-travel machine, using an 1800s clock-tower mechanism, for a winery in California's Napa Valley; and a 9-11 memorial for the newly restored Union Station in Springfield, Massachusetts, honoring the first responders who died at the World Trade Center in New York. We are incorporating a 12-ft. steel beam salvaged from one of the towers in our concept design.
STEAMPUNK INSTALLATIONS TYPICALLY INVOLVE MOVING PARTS. HOW DO YOU GO ABOUT MAKING THEM DURABLE?
It's true: movement and functionality are key to our designs. It's the machine/ mechanical/kinetic aspects that engage folks and gives our artwork another dimension of connection and interaction. That said, durability is also part of our mission. We make our machines to last forever—no thoughts about planned obsolescence. However, as is the case with any machine that has working, moving parts, there needs to be maintenance.
We do design and engineer our artwork to limit the amount of that kind of work needed, but moving parts do demand lubrication and care. We set up a schedule with our clients so they can have their own people do simple maintenance, or we offer maintenance contracts. If motors or other parts need to be replaced over time, we've designed in easy access to do that.
VIRTUALLY ALL STEAMPUNK INSTALLATIONS INCORPORATE HISTORIC AND/OR EXISITING MATERIALS. IN YOUR VIEW, DOES THAT GIVE STEAMPUNK A "SUSTAINABILITY HALO"?
Steampunk is the ultimate design philosophy for the green movement. Built into the whole idea and aesthetic of Steampunk is repurposing and reusing period objects—mostly pieces that are destined for history's trash heap. From small objects to buildings or whole cities, Steampunk is sustainability mixed with meaning and creative problem solving. It's an act of time-defiance and time-resilience to adapt an object, building or city and give it a new life.
WHEN IT COMES TO HOSPITALITY-BASED STEAMPUNK WORKS, HOW DO YOU INTERACT WITH/TEAM WITH THE INTERIOR DESIGNERS WORKING AT THE SAME PLACE?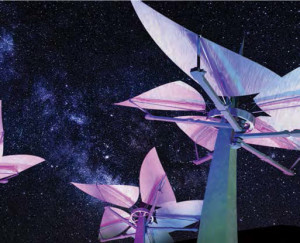 More often than not, things start when I get a call from a general manager at a hotel or a mall, or an interior designer or architect working on an adaptive reuse project where they love the Steampunk aesthetic and want to incorporate an art piece that is iconic, relevant and meaningful for their guests or clients.
That said, thinking about art usually comes in the latter stages of a project's development, so we're often coming in when a lot of the building is already themed and fixed. But the ideal time for us to start our creative process is early on, when a project's concepting is just starting. Getting in early allows us maximum time to do our historical research of the noted people, building and location; review the current plans and layout; and think about the future vision/impact of the project.
Also, it can take anywhere from three months to 18 months to source the period objects, and design and engineer our functional artwork (including lighting, kinetic movement, sound, interactivity, technology), so getting in earlier is always better.
PLAYING DEVIL'S ADVOCATE HERE. SOME MIGHT ARGUE THAT STEAMPUNK IS JUST A PASSING FAD. HOW DO YOU RESPOND TO THAT?
The whole essence of Steampunk design is its ability to adapt and be resilient in the face of change. The time periods that we are inspired by and go back to will change in the future, but the "opposites-thinking" and creative problem-solving involved in creating Steampunk installations and their evolutionary offshoots will never go out of style.
Right now, Steampunk is focused on the Victorian and Industrial periods. However, I'm also dabbling in Decopunk (1930s), Dieselpunk (1940s) and even MidCenturyModernPunk (1950s). Who knows what might be next? I can't wait to see!