By PENELOPE GREEN
APRIL 23, 2016
One morning in early March, Kyli Ledesma, a 20-year-old barista from San Diego, woke up at 3:30 so she could drive to Los Angeles to secure a copy of Cassandra Clare's newest book, "Lady Midnight," which would be for sale at Barnes & Noble at the Grove, a high-end mall, when it opened at 9. Yet she was not the first at the door.
Nor was Lydia Whitman, 15, who pulled in at 5 a.m., driven from Agoura Hills, Calif., by her mother to earn the 12th place in line.
Sales of the book were capped at 400, but the urgency propelling Ms. Ledesma, Ms. Whitman and the rest of Ms. Clare's fans was that the first 100 purchasers would get a seat that evening at a question-and-answer session with Ms. Clare and the actors from "Shadowhunters," the television show that has been made from her series.
A tour for Ms. Clare has more in common with that of a country music star than an author. She travels on a bus emblazoned with her name, and hundreds, even thousands, of fans may show up at her events.
She writes fantasy for the young-adult market, which means she's an alternate-world builder, like J. K. Rowling and Stephenie Meyer, who sets her supernatural plots (Shadowhunters are humans, teenagers mostly, who are descended from angels and fight demons and such) in urban settings like New York City and Los Angeles.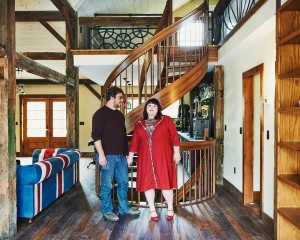 The fantasy author Cassandra Clare and her husband, Joshua Lewis, inside the writer's, across the street from the couple's home in Amherst, Mass. The studio has an apothecary bar done up in steampunk style.
Photo by: TONY LUONG FOR THE NEW YORK TIMES
….
For the last two years, she and Mr. Lewis have been renovating a mid-19th-century former warehouse set beside a crashing waterfall. They bought it for about $400,000 and have put as much as $2 million into the renovation, Ms. Clare said. "We took everything apart and put it back together," she said.
It's now an Arts and Crafts showpiece. Stairs are painted to look like bookshelves; bathroom tiles are printed with quotes from their favorite authors, like J. M. Barrie and Oscar Wilde.
They moved to Amherst in 2009, when Ms. Clare's third book was published. Around that time, her store events began to change. "My first book event, my parents showed up, and maybe 10 people," she said. "For 'City of Glass,' I went to Toronto for an event and 1,000 people appeared. I thought, my God, did something happen?"
Across the street from the house is a 1920s barn that's been reimagined as a writing studio by Bruce and Melanie Rosenbaum, architectural designers with a specialty in steampunk design. They were so inspired by Ms. Clare's work, they created a steampunk-inflected interior from salvaged apothecary shelves and an old soda fountain. A vintage English telephone booth will become a time machine. "Knowing Bruce," Ms. Clare said, "it will probably work."
Collaborating with a mechanical engineer, the Rosenbaums turned all the modern appliances into fantastical contraptions. A tiny steam engine has been electrified and fashioned to look as if it's powering the ceiling fan.
There's an iPad in an apothecary scale and the gleaming soda fountain holds a tiny clockwork angel (in homage to the title of one of Ms. Clare's books) upon which play multicolored LEDs. It's inscribed with a passage in Latin, "which I can't read because I can't read Latin," Mr. Lewis said. "But it's from Milton, and it's something like, 'If I can't reach Heaven, I'll raise hell.'"
"Actually, it's from Virgil," Ms. Clare said. Mr. Lewis beamed at her.
The microwave, a wildly elaborate device, has its own Latin inscription, an appropriate coda, perhaps, for Ms. Clare's career: "Justice should be served hot."
(Click on photos to enlarge view)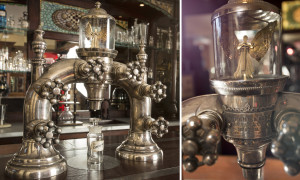 1800s soda fountain 'mixer' made by Boston's Puffer & Sons Manufactures company turned into an interactive, functioning valves operated LED light show of Cassandra Clare's Clockwork Angel.