ModVic will provide expertise to the project that fosters links between the past, present and future
When the City of Boston put out a request for proposals to restore and repurpose the Northern Avenue (Swinging) Bridge, ModVic jumped into action and assembled a talented team of engineers, architects and designers that was up to the challenge.
The result, 'Steampunk Gateway: Reimagining Boston's Maritime History" received Honorable Mention – just one of nine awards out of more than 130 submissions.
A big thanks to everyone who contributed their time and expertise. Here is a link to all of the 2017 NAB creative entries.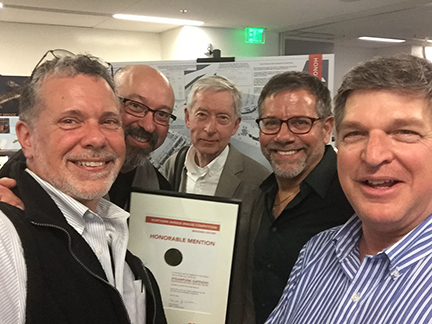 Left to right: Chris Doktor, Bruce Rosenbaum, Paul Farrell, Mark Landsberg and Michael Tyrrell.
Not pictured: Reed Brockman and Dan McNichol
The NAB first opened in 1908. Despite constant corrosion due to it's proximity to salt water, the bridge has served pedestrians, cyclists, automobiles and freight trains throughout its history.
Boston's commitment to enhancing mobility, celebrating its history and creating cultural and community spaces for residents and visitors alike, led to the NAB Ideas Competition.
Some exciting features of the 'Steampunk Gateway' included: A New Tender's House, which would offer educational insight to the mechanics of the bridge as well as restaurants, retail shops and a music venue; A plan to rebuild the Firehouse Maritime Museum, which tells the story of the people and the equipment of the port; A Rowing Center for Historic Longboats & Dragon Boats; A variety of retail food train cars; And a number of Steampunk observation scopes.
Here is a link to our official submission.
In the end, AECOM, an American multinational engineering firm that provides design, consulting, construction, and management services to a wide range of clients was named the winner of the NAB redesign contract, who in turn appointed Bruce Rosenbaum as Steampunk Arts Consultant for the restoration project.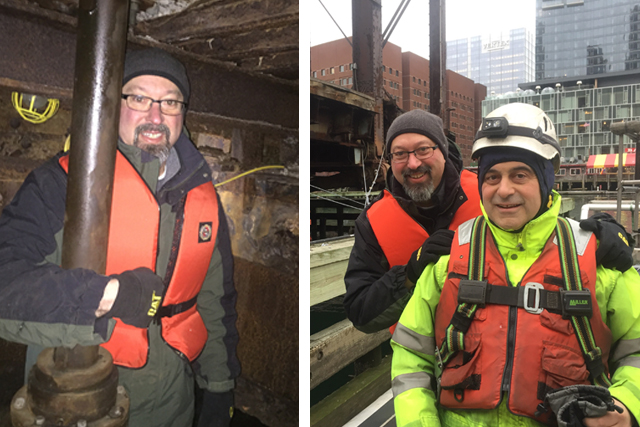 In December, Bruce took a boat tour to see the underside of the bridge. (left) Bruce Rosenbaum and Reed Brockman topside. (right)