A team of artists collaborate to reinvent a fully-themed writer's studio for Amherst, MA Author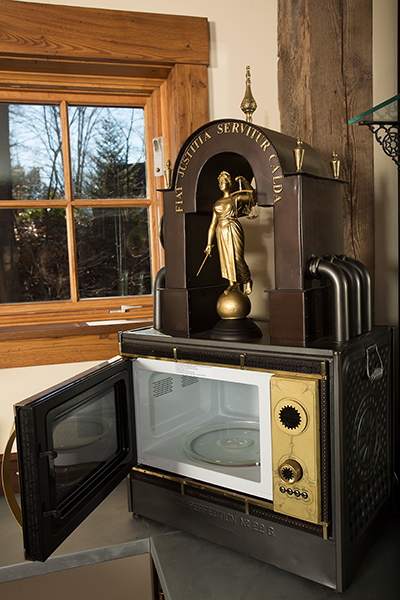 A make-over with a twist can be just the thing to help tap into creative inspiration.
After this home remodeling project, Cassandra Clare, an American author of young adult fiction known for her bestselling series The Mortal Instruments, finds herself surrounded by some of her very own creations.
Jim Bremer, an art director and graphic designer said the collaborative approach that Bruce Rosenbaum brought to the table was a natural fit for his team. Jim worked with his wife Ruth Buffington and Linda Lyons, a professional doll artist, to design a sculpture called Clockwork Angel – that is a featured element in the author's series.
Bruce worked with more than a dozen artists, from cabinet makers and carpenters, to engineers, lighting professionals, illustrators, glass experts and beyond.
Watch our artist video to see details of the Apothecary Bar,
Cline Time Machine, Clockwork Angel and more…
Efraim Shapiro and Dovi Hirsch from Barney & Cary, Co. – lumber specialists – were instrumental in modifying the original pieces and sizing the bar and kitchen to meet construction height and safety codes.

BDNY 2017 Wrap-up: ModVic Unveils Helioman
Our trip to the Big Apple turned out to be a "soaring" good time!
We couldn't think of a better backdrop to showcase ModVic's new 'Helioman' than the Boutique Design 2017 Conference at the Javits Conference Center in NYC.
To great 'Fan' fare – this DaVinci inspired flying machine, built in collaboration with artist Michael Ulman and Big Ass Fans is approximately 11 ft tall – the design and construction took almost 6 months to complete!
Watch our video report from the Renaissance Hotel's "maker space" to learn more fun facts.